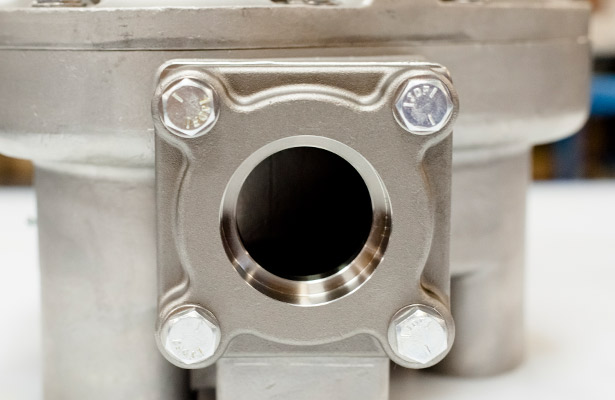 Miscellaneous product accessories were developed to increase functionality of your metering solution. Such items as flow indication, RTD temperature probes, clutch assemblies, insulation jackets, protective covers and various flange connections.
Standard square companion flanges are included with the meter assembly.

Sizes: 1″, 1-1/2″, 2″, 3″ and 4″
Materials: Aluminum, Carbon Steel, 304 and 316 Stainless Steel
Flange Connections: BSP or NPT are standard, with optional Slip Weld, DIN and ANSI

Mechanical rate of flow indication available in Gallons, Litres or Decalitres.

Features: Noiseless and smooth indication, unidirectional (specify direction of flow), & available in all sizes of flow meters.
Unit of Measure: Available in Gallons, Litres and Decalitres
Mounting: Front cover assembly

Mechanical register heat extension for temperatures over 160 F (71 C). A vented heat extension is 12 inches (305 mm) in height, and assembled with brass bushings and face gear to protect the register counter from heat damage..

Mechanical register extensions are available with maximum length of 6 foot (2 meters). Required for loading facilities filling tanks from above. Available with preset control linkage. Call factory for custom lengths.

Each insulation jacket is lightweight, flexible and vibration resistant to help provide thermal protection of the flow meter. The custom designed insulation jackets are removable and reusable, required for rugged and dirty applications.

The thermal covers are made with Silicone and Teflon impregnated Fiberglass fabrics, with stainless steel thread. The register counter cover offers protection from rain, snow and sun damage. A clear window with cover flap easily fold over for view of counter. Cover flap for reset provides easy access.

RTD temperature probe for flow computers. Explosion proof housing for hazardous locations. 1″ NPT fitting with 4″ probe length..

Resistance Temperature Detectors (RTD) transmitters are designed to produce a linerized (4 to 20) mA dc output current signal, which is directly proportional to the temperature of the RTD temperature sensing element. A variety of models are available for RTD sensor inputs of different element values and temperature coefficients. The model described is designed for use with RTD's that have platinum measuring elements with temperature coefficients of 0.00385 and 0.00392.

Standard thermowell coupling for RTD protection is 1″ NPT fitting with 4″ probe length. UL approved explosion proof housings are available for hazardous locations.